Would You Like to Continue for
Another Year in the Website
Security Now Workshop?
Now You Can Protect Your WordPress Website from Business Destroying Hacker Attacks Without Becoming a ?Techie?
Hardly a week goes by it seems that we don't hear about another major website getting hacked…
And what's worse is more than 20,000 websites were hacked last year alone!
How Much Money Will You Lose if Your Website Gets Hacked?
When your website gets hacked, it gets shut down.
Your Home page is gone…
Your About Us and your Contact pages are gone…
Your Product and Services pages are gone…
Customers stop buying from you.
And the money stops flowing into your bank account!
Google Knows When Your Site's Been Hacked
Even Before You Do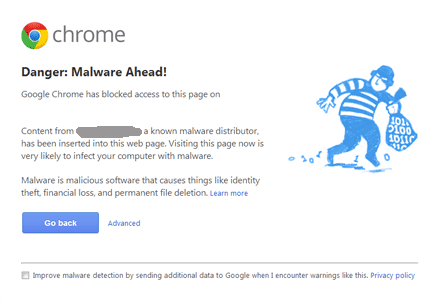 They stick a big warning sign like this in front of people who try to click on them.
Your search engine traffic stops.
No one goes to your website.
People stop calling you.
People stop buying stuff from you.
So you better start thinking about…
Do You Know "The 5 Different Attacks that Can Shut Down Your Website"?
Get Registered & Lock Down Your Website Today
How to Prevent Your Website
from Getting Hacked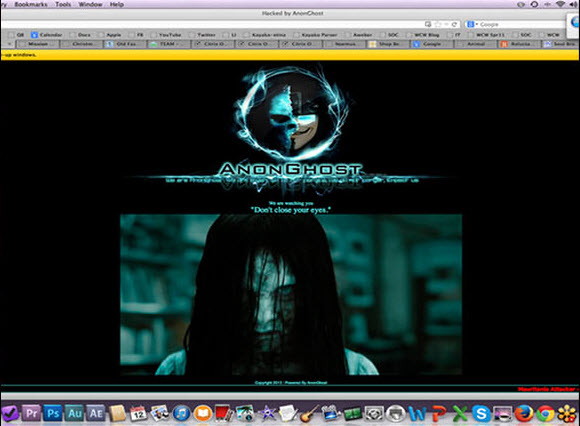 Do you have an action plan in place to keep the hackers out of your WordPress website?
If you're like most website owners I know, the answer is no.
This ghastly picture here is a screenshot I took from one of MY websites.
Yes, a few months back I got hacked. Fortunately this was not my main money-site.
It was a site that I hadn't used in a while, and I let some things get out of date on it, opening up a security hole that these creeps exploited.
Embarrassed and annoyed, this attack kicked me into action – I was determined to figure out how to fix this AND how to keep this from happening again.
I learned everything I could about WordPress security.
And I discovered…
The Surprising Backdoors into WordPress
That Hackers Love
Right now, you almost certainly have multiple backdoors sitting wide open for hackers to creep in through and shut down or deface your website.
Your hosting company probably created one of these backdoors.
You see the default way they set up your WordPress site, and thousands of others just like it, has made you vulnerable.
Now they didn?t do this on purpose of course…
It?s just one of several sneaky ?backdoors? that these clever hackers figured out how to exploit.
The good news about this is…
You Can Easily Protect Yourself
When You Know the Right Steps to Take
WordPress itself is actually very secure software code.
The code is not your problem.
Yes, your backdoor is probably sitting wide open right now.
But this is due to poor website setup (which you didn't know about).
Not bad code.
So you can easily fix this yourself.
Which will stop any hackers who come around.
And instead of wasting time trying to crack your site…
They will move on to easier pickins where people still leave their doors? unlocked.
I'd like to share with you now the simple steps I've discovered for protecting your WordPress website from hackers in my special training program…
"Lockdown Your WordPress Website" – No Technical Skills Required!
---
In this Video Training Program You Will Learn…
Your Exposed Backdoors
---
The Exposed Backdoors Hackers Exploit to Take Over Your Website and How You Can Stop Them Cold With My Simple Strategies.
30 Minute Lockdown Plan
---
How to Lockdown Your Exposed Backdoors in Less Than 30 Minutes So You Can Continue to Make Money Online, Worry-Free.
Discover Site Infections
---
A Quick Way to Scan Your WordPress Site for Hidden Infections Which Might be Lying in Wait Like a Snake in The Grass for a Future Shutdown of Your Website.
Eliminate Hacker Logins
---
How to Easily Spot Unauthorized Hacker Logins So You Can Immediately Delete Them.
Here's What's Included in This Training…
---
Videos Available for Online Playback and Download.
Downloadable PDF Plans and Checklists.
Plus, Your Emergency Action Plan
If You Discover You've Been Hacked…
---
?
Your "911 Emergency Action Plan" to Recover Fast if You Do Get Hacked and Get Your Website Back Up and Making Money in the Shortest Time Possible.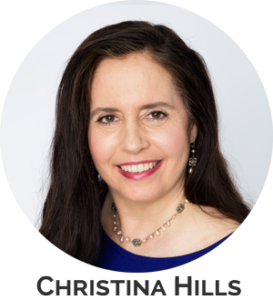 Meet Your WordPress Security Teacher
Christina Hills is an expert in simple solutions for WordPress security and is the creator of the long running Website Creation Workshop Program for non-technical business owners.
Since 2008, Christina has helped more than 2,669 independent experts and professionals create their own websites in WordPress.
She is a 13 year online marketing veteran and a former special effects movie animator, with film credits from George Lucas for Star Wars, Jurassic Park, and ET. She is also a wife and mother and lives with her family in San Diego, California.
Non Refundable Registration
You?re Enrollment in the ?Website Security Now Workshop? is Non Refundable.
Since you have already been through the Website Security Now workshop before, this Discount ?Continue? enrollment fee is non refundable.
-Christina Hills, Your Teacher and Coach for WordPress Security.
Don't Leave Your WordPress Website Unprotected Any Longer – Register Today for the "Lockdown Your WordPress Website" Training Program with Christina Hills.
?
Click the Button to Register Now
This Security Training is Right For You If…
---
You Want to Stop Worrying About Hackers Shutting Down Your Business.
You Want to Stop Feeling Helpless and Confused About Securing Your Site.
You are Annoyed and Confused by Spam Comments on Your Blog, and You Want to Put a Stop to Them.
Testimonial: "As always, Christina knows how to take care of her students. WordPress hackers are more adventurous these days. We hear about more and more WordPress sites being hacked. Maybe it has happened to you. Christina has really focused in on this critical security issue. She provides an easy to understand process on how to implement WordPress Security so that your site will be protected from being hacked. Thanks again Christina! You're Number One!"
Testimonial: "I?ve taken many courses with Christina. And what I appreciate most is how she teaches everything in a step-by-step manner. Her process of layering content in as building blocks, one piece at a time, makes learning so much easier to digest. And what that means as a student is I DO IT, with ease, joy and confidence."
Testimonial: "Christina has an amazing way of making what felt very complex so much simpler! As I listen to her, I realize that I?m making things way too hard and with her guidance, I really can follow along. She teaches creativity as well as technology, and every time I hear her teachings, they take me one step further towards accomplishing my goals. WordPress security can seem pretty complicated, but Christina makes it so much simpler and entirely doable!"
Testimonial: "My first attempt at WordPress was frustrating, and then I found Christina Hills. She has a step-by-step approach that makes everything easy to understand. I am convinced that even the most ?computer-challenged? will find Christina?s courses easy to follow."
Testimonial: "I was a person afraid of anything technical – especially trying anything out of the ordinary on a computer.
But Christina has an amazing gift – making what's challenging into something totally understandable and doable.? Y
ou not only helped me with my website but also with my confidence in being willing to apply what you taught me to other computer related issues – analyze the situation, try something new & then move on.
I am so grateful to the Universe for providing me with such an awesome teacher and mentor."
<a name="registernow"></a>
Website Security Now PRIORITY Reservation Form

YES! I Want To Enroll in the "Lockdown Your WordPress Website" Program

Christina, please reserve my seat for me. I want to learn online from the comfort of my own home without any travel expenses. I understand it?s an Online Course and I can go through the online training program at my own pace.? I understand I will learn the WordPress website security techniques that you have put together to teach me about protecting my website, and that not you nor anyone else has made any income promises to me and that my income is dependent solely on my own efforts and that of my business.
By Clicking the Purchase Button Below,
You?ve Acknowledged and Agreed to the
Website Security Now
Terms and Conditions
Regular Price?$297?
Special Offer To Continue for Another Year
For a One Time Fee of $197 ($100 off!)
<center><i class="fa fa-cc-amex fa-3x"> </i> <i class="fa fa-cc-visa fa-3x"> </i> <i class="fa fa-cc-mastercard fa-3x"></i> <i class="fa fa-cc-discover fa-3x"></i></center>